Lifehacks
Why put eggshells in the washing machine: a strange but effective way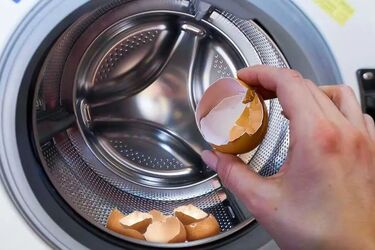 Eggshells are a product that is usually thrown into the trash. However, few people know that eggshells can be used to whiten clothes in the washing machine.
Eggshells contain calcium, which is a natural bleach. Calcium helps to break down the molecules that cause darkening of the fabric, writes Sante Plus.
Read also: Why do towels deteriorate during washing: how to prevent it
To use eggshells to whiten clothes in the washing machine, you need to wash the shells thoroughly, dry them, and grind them in a blender.
Then pour the powder into a cotton bag made of light fabric and tie or sew it tightly.
When washing, put the eggshell bag in the drum of your washing machine.Select a hot water cycle (at least 60 degrees Celsius).
Eggshells will help whiten white fabric items and remove stains.
However, it should be remembered that eggshells cannot whiten items with heavily soiled or yellowed stains.
As a reminder, we have already written about why things get dirtier after washing in a machine.
If you want to get the latest news about the war and events in Ukraine, subscribe to our Telegram channel!