Recipes
White bean garlic hummus: how to make a delicious bread spread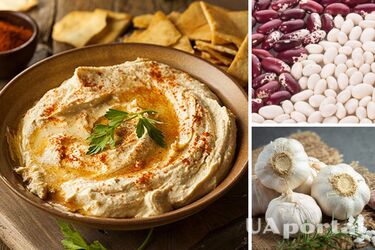 Hummus is a wonderful and satisfying Arabian appetizer rich in protein, folic acid, vitamins B3 and B6, potassium and iron. It can be made not only from traditional chickpeas, but also from white beans.
Hummus can be served as an appetizer or a side dish. It can be eaten with chips, pita bread, fresh vegetables, or meat, writes Pixel.
Read also: Pumpkin risotto: an original dish that will appeal to almost everyone
Ingredients:
white beans - 1 cup;
garlic - 10-12 cloves;
oil (vegetable or olive) - 5 tbsp;
lemon juice - 2 tbsp;
ground sesame seeds - 3 tbsp;
paprika - 1 tbsp;
salt, red pepper (ground) - to your taste.
Method of preparation:
1. Soak the white beans in cold water for 12 hours. If you use refried beans, skip this step.
2. After soaking, rinse the beans thoroughly and cook them in slightly salted water. Drain part of the water and keep the rest, because you can pour it into the hummus.
3. Peel the garlic, sprinkle with oil and bake until soft.
4. Combine the baked garlic, beans, sesame seeds, and lemon juice in the bowl of a food processor and blend until a puree is obtained.
5. If the mixture is too thick, dilute with the water left over from cooking the beans and blend again.
Earlier, we told you how to make baked pumpkin with cheese. The whole family will love this simple recipe.
If you want to get the latest news about the war and events in Ukraine, subscribe to our Telegram channel!