Recipes
Quick and healthy breakfast: How to make a smoothie with pumpkin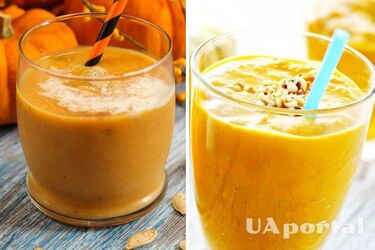 Pumpkin is not only a symbol of the fall holidays, but also a useful vegetable that can enrich your menu. We tell you how to prepare a delicious smoothie from pumpkin banana and orange, which will give you pleasure and benefits in the morning.
Pumpkin is a real treasure when it comes to the amount of nutrients with many beneficial properties. Here you will find:
Beta-carotene: converted into vitamin A, which supports immunity and improves eyesight.
Vitamins C and E: strengthens the immune system.
Potassium: helps lower blood pressure.
Fiber: promotes healthy digestion.
Tryptophan: supports serotonin production to improve mood and sleep.
Read also: How and where to store pumpkins properly so they don't spoil
Pumpkin streusel with bananas and oranges
Ingredients:
1 cup nonfat vanilla yogurt
¾ cup canned pumpkin
½ cup ice cubes
⅓ cup fresh orange juice
1 tbsp. brown sugar
½ tsp. ground cinnamon
⅛ tsp. ground nutmeg
A dash of ground cloves
1 ripe banana, sliced and frozen
A little ground cinnamon (optional)
Cooking method:
Combine yogurt and other ingredients in a blender and whisk until smooth.
Decorate the smoothie with a pinch of ground cinnamon if desired.
Serve immediately after cooking.
Previously, we told you how to prepare marmalade from pumpkin. This healthy dessert should be consumed in moderate amounts.
If youwant to receive the most up-to-date news about the war and events in Ukraine, subscribe to our Telegram channel!