Recipes
Even kids will eat it: recipe for soup with cheese balls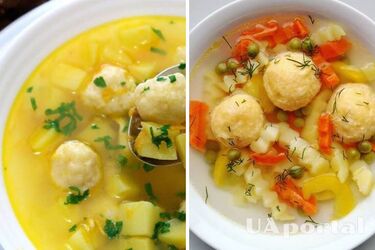 This soup recipe from Shuba is perfect for the first cold weather. It is simple to prepare, but incredibly delicious.
Ingredients:
Chicken quarter - 1 pc.
Water - 1.5 liters
Potatoes - 5 pcs.
Carrots - 1 pc.
Onion - 1 pc.
Laurel leaf - 2 pcs.
Salt - to taste
Ground black pepper - to taste
For cottage cheese balls
Hard cheese - 100 g
Chicken eggs - 1 pc.
Unsalted butter - 50 g
Flour - 3 tbsp.
Snack seasoning, cottage cheese - to taste
Herbs - to taste
Method of preparation:
Pour the chicken quarter with water and bring to a boil. Cook for 40 minutes, skimming off the foam. Take out and leave to cool.
Cut potatoes into cubes, carrots and onions into straws and send to the broth, add bay leaves, salt, pepper and simmer for 15 minutes.
Grate cheese on a coarse grater, add butter, egg and mix. Add flour and knead the dough.
Divide the dough into 2 parts, roll out sausages and cut them into slices. Form them into balls and put them in the refrigerator for 30 minutes.
Cut the meat into pieces. Put the meat pieces and cottage cheese balls into the soup and simmer for 5 minutes.
Add herbs and cook for 2 more minutes.
We also advise you to pay attention to the recipe for creamy broccoli soup.
Want to receive the most relevant news about the war and events in Ukraine - subscribe to our Telegram channel!