Society
Blogger tells how to easily stop raw potatoes from sprouting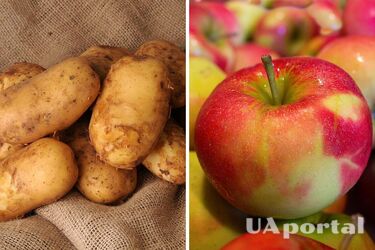 If stored improperly, raw potatoes can sprout. Such vegetables should not be eaten, as sprouted potatoes can cause health problems.
Dr. erincarter, a wellness blogger and rheumatologist, explained how to store potatoes properly so that they do not sprout. This was reported by Express.co.uk.
According to her, potatoes should not be stored in plastic bags. Simple paper bags are better for storage.
Read also: How long to store boiled eggs in the refrigerator so they don't spoil
You should also put an ordinary apple with the potatoes. In fact, storing potatoes with an apple prevents sprouts from developing and also extends the shelf life.
Apples produce ethylene gas. It can reduce the rate of carbohydrate metabolism, slowing down the germination process.
We remind you that there are different ways to store viburnum for the winter. Freezing is considered to be the easiest way, or you can make jam, marshmallows, or jam.
If you want to get the latest news about the war and events in Ukraine, subscribe to our Telegram channel!