Horoscopes
Three zodiac signs will enjoy unprecedented success: horoscope for the weekend of June 24-25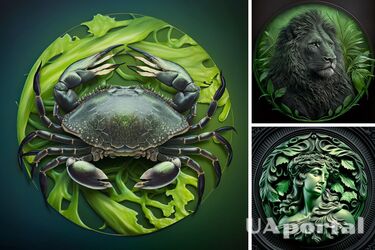 UAportal has prepared horoscopes that examine the astrological influence of the most successful zodiac signs Cancer, Leo and Virgo on June 24-25. Learn about the cosmic energies that can favor these signs.
Cancer.
Thanks to the magical presence of Jupiter in Cancer, this weekend promises extraordinary luck for Cancers. The universe seems to be aligned in their favor, offering good encounters and opportunities that can push them to achieve their goals. Embrace the cosmic energy of the planets, which will bestow its blessing and guide you to successful encounters and opportunities that are key to realizing your dreams.
As Cancers explore uncharted territory, their intuitive nature will guide the development of favorable circumstances. Cosmic energies encourage Cancers to remain open to the unexpected, as it is randomness where the greatest success is found.
Leo.
Under the watchful eye of Saturn in Leo, this weekend will ignite a celestial symphony of favorable circumstances for Leos. The cosmos harmoniously combines in their lives, endowing them with success. By embarking on the chosen path, Leo will find that doors open effortlessly, presenting ample opportunities for success.
Read also: Travel and adventure await three zodiac signs this summer
Leos will be able to enjoy the wonderful synchronicity of the universe, where success will be their faithful companion on the way to outstanding achievements. Whether it's career, personal endeavors or relationships, luck accompanies every Leo's action, giving them a touch of fate and the ability to turn aspirations into real achievements.
Virgo.
Thanks to the mysterious presence of Uranus in Virgo, this weekend promises Virgos unusual prospects, showering them with good fortune and unexpected winnings. In the midst of their routine, a random event or meeting can start an avalanche of good fortune. Virgos, get ready for a wonderful weekend, when you discover unexpected good fortune that push you towards success and prosperity.
Care and analytical skills will play a crucial role in recognizing and taking advantage of these lucky moments. By embracing the unexpected and venturing into uncharted territory, Virgos will find themselves on the verge of unprecedented success and wealth.
As UAportal reported earlier, astrologers have named the two most evil zodiac signs that are capable of terrible revenge.
If you want to get the latest news about the war and events in Ukraine, subscribe to our Telegram channel!