Recipes
How to cook a delicate pumpkin muffin with semolina: a simple recipe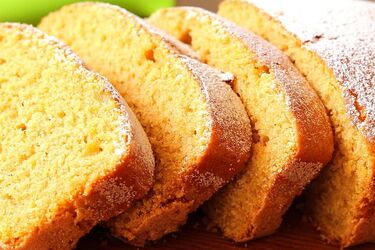 Pumpkin is a wonderful vegetable that not only adds juiciness but also enriches the taste of any dish. And one of the most delicious ways to use pumpkin is in baking. Cupcakes, muffins, pies - all of them become tender and flavorful with pumpkin.
Pumpkin semolina muffin according to Yevhen Klopotenko's recipe has an unsurpassed taste and aroma. This dessert is perfect for family celebrations or just as a sweet treat for the whole family.
Read also: Easy recipe for spaghetti squash: this dish will surprise you
Tips for making a pumpkin muffin:
Use a baking dish. If you are using a metal or glass mold, be sure to grease it with oil and sprinkle with semolina to prevent the muffin from burning. In the case of a silicone mold, greasing may not be necessary.
For convenience, use a cooler to grate the pumpkin. This will make the cooking process even faster and easier.
Try adding flavorings to the batter, such as cinnamon or vanilla, to enrich the flavor of your muffin.
This recipe uses ammonium carbonate-free baking powder, but you can also use salt if it works for you.
The pumpkin muffin is delicious both warm and chilled. Store it in an airtight container to keep it fresh.
Ingredients:
400 g of pumpkin
3 eggs
100 g of sugar
A pinch of salt
250 g of semolina
100 g of butter
100 g of sour cream
10 g of baking powder
20 g butter (for greasing the mold)
1 tbsp. spoon of semolina (to prepare the mold)
Step-by-step recipe for a pumpkin cake with semolina:
Step 1: Choose a pumpkin, wash it, remove the peel and grate it on a fine grater.
Step 2: In a separate bowl, beat 3 eggs with sugar until white. Add the melted butter, semolina, baking powder, a pinch of salt and sour cream. Mix all the ingredients thoroughly.
Step 3: Preheat the oven to 180 degrees. Add the grated pumpkin to the dough and mix well again. Prepare the muffin tin: grease it with oil and sprinkle with semolina as described above. Spread the semolina evenly over the bottom and walls of the mold.
Step 4: Put the batter into the prepared mold and bake the cake at 180 degrees for 45 minutes or until golden brown. Check for doneness with a wooden skewer: if it comes out dry and clean, the cake is ready to serve.
Earlier, the chefs shared the secrets of baking pumpkin.
If you want to get the latest news about the war and events in Ukraine, subscribe to our Telegram channel!